About a month ago I got a pair of
APC's
from this neat little store in downtown Toronto called
TNT Blu
. With every purchase they hand out a scratch card with a code inside, that the customer can then sign up to their website and enter a draw for a $500 gift card. They do this once a month, and as long as your name isn't drawn up, you are eligible for the next month's draw.
Today I got an email from
TNT Blu
, regarding the monthly draw.
HOLY SHIT
did I win?
You see, I have a 20 inch LCD monitor so normally my windows are not maximized so when I opened my email it looked like this...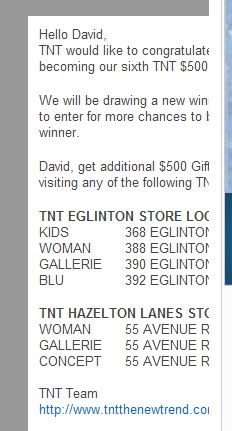 HOLY SHIT
did I win?